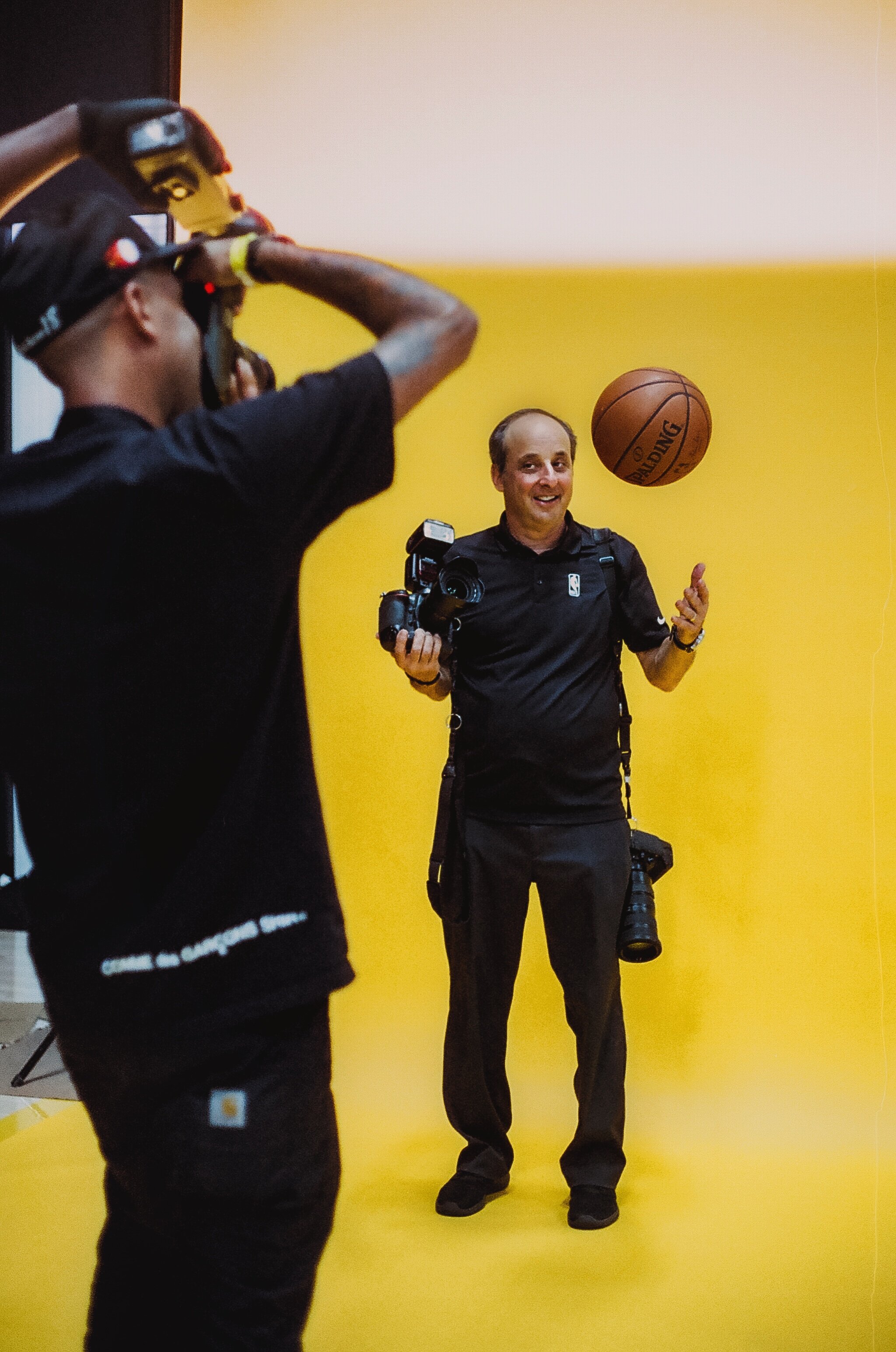 Like many of the professional athletes he photographs, Andrew D. Bernstein is recognized as an All-Star in his field. The Naismith Memorial Basketball Hall of Fame named Bernstein a 2018 Curt Gowdy Award recipient, acknowledging his contributions to basketball media.
Career:
Bernstein's photography has appeared in thousands of newspapers and magazine covers worldwide, as well as major advertising campaigns for over 30 years. Recent commercial projects include featuring some of the world's top athletes for Nike, Reebok, Adidas, Pepsi, Coca-Cola, Icy Hot and GlaxoSmithKline. The unique personal rapport Bernstein has developed with athletes over the years allows him exclusive access to special behind-the-scenes moments, some of which were showcased in the 2010 book he co-authored with legendary Hall of Fame NBA coach Phil Jackson, "Journey to the Ring", documenting the 2009-10 Lakers championship season. In 2018, Bernstein collaborated with five-time NBA champion Kobe Bryant on the worldwide bestselling book "The Mamba Mentality: How I Play," a unique look at Bryant's 20 year career through Bernstein's lens.
Andrew and his company, Andrew D. Bernstein Associates Photography, Inc., has served as team photographer for the LA Lakers, LA Kings, LA Clippers and LA Dodgers. In addition, Bernstein holds the position of Director of Photography for STAPLES Center and Microsoft Theater L.A. Live, the sports and entertainment complex in Los Angeles.
Recognized as a highly-skilled and innovative action and portrait photographer, Bernstein was involved in the creation of NBA Photos in 1986, which is recognized as the worldwide leader in licensing of NBA photography. He was instrumental in the creation of the position of Senior Director of NBA Photos, a position he held from 1986 through 2011, and he continues to serve as the longest tenured league photographer. He is the key photographic contributor to NBA Entertainment's global media platforms, which include NBA.com, all league publications and NBA licensed products.
Sports fans off the printed page know Andrew, making frequent television and radio appearances to discuss his work. He co-produced a popular show currently running on Time Warner Cable SportsNet, "Through The Lens", hosting discussions with notable Lakers and NBA personalities via his iconic photographs. Click here to view the teaser: https://vimeo.com/138102127
Bernstein was instrumental in the development and use of new technology, both on and off the court, including the multiple camera Flash Wizard II system, which revolutionized indoor sports action photography by using triggers and remotes with strobe lighting.

Bernstein is a founding partner of a new media and events company called Legends Of Sport that celebrates legendary athletes, teams and moments in sports. Bernstein hosts a weekly podcast called "Legends Of Sport", which can be found on Apple Podcasts. The platform and podcast can be followed on Twitter @lospodcastone, Instagram @legendsofsport and blog www.legendsofsport.blog.
Early Work:
Bernstein, 61, grew up in Brooklyn, N.Y., where he was an avid sports fan who participated in the action through the lens of a camera. While attending the University of Massachusetts Amherst, his portfolio earned him a National Endowment for the Arts Fellowship and a scholarship to attend the prestigious Art Center College of Design in Pasadena, CA, where he earned a BFA in 1981, and where he recently returned as an instructor of an upper level sports photography class. He is also an adjunct professor in the Film Development at Mount Saint Mary's University in Los Angeles. As a student, Bernstein devoted himself entirely to sports photography, working full-time as a studio assistant and part-time as an assistant for Sports Illustrated. Simultaneously, Bernstein pursed his craft as a freelancer, earning his living photography hockey, basketball, football and baseball games in the Los Angeles area.
Developing connections as he honed his craft, Bernstein serendipitously came to the attention of NBA personnel while sitting in the public relations office of the Lakers in 1982. Conversations with NBA Properties put him in line for his first NBA job, which was photographing the 1983 All-Star Game at The Forum. That was the start of his reputation in sports photography. He has extraordinary technical knowledge, possesses the rare ability to see a world others cannot and captures it on film. His thoughtful and respectful treatment of the athletes he photographs has earned their trust and admiration. As a result, he has had unique access to athletes and athletic events, resulting in photographs that resonate with vibrant emotions and explosive action.
High-profile projects involved photographic coverage of the 1992, 1996 and 2000 United States of America basketball teams from their inception through their gold medal wins in Barcelona, Atlanta and Sydney. Bernstein was also the exclusive photographer for the legendary 1992 "Dream Team." Bernstein's coverage extended to photographing the United States of America basketball teams in 2008, 2012 and 2016 including trainings and international exhibition games. He was granted exclusive access to cover Kobe Bryant's final All-Star appearance and farewell tour resulting in worldwide publishing on multiple platforms. He was the only photographer to have one-on-one time with Bryant before photographing him when his numbers were retired during the Lakers halftime ceremony at STAPLES Center in December 2018.
Additional book projects include: "Journey to the Ring" co-authored with legendary Hall of Fame NBA coach Phil Jackson documenting the 2009-10 Lakers' championship season, "America's Dream Team," "NBA Jam Session," "NBA at 50," and "Basketball's Best Shots," as well as three titles from the Lakers recent championships: "The Big Title," "Close Two a Dynasty," and "Kobe and the New Lakers' Dynasty." A showcase devoted to Andrew's NBA photography was published in "NBA Hoop Shots: Classic Moments From a Super Era" in 1996.

Awards, Shows and Accolades:
In 2018, Bernstein was the recipient of the Curt Gowdy Media Award by the Naismith Memorial Basketball Hall of Fame. The award is named in honor of the late Curt Gowdy, a legendary sports broadcaster and former Hall of Fame Board member and president. This prestigious award is presented annually to members of the electronic and print media whose longtime efforts have made a significant contribution to the game of basketball. Bernstein is the second photographer to receive this honor.
Bernstein's photographs have been showcased in solo shows in the Los Angeles area at the Sports and Entertainment Gallery, the Canon Gallery, Gallery 319 and The Perfect Exposure Gallery. His unique style has led to various commissioned exhibitions throughout the country, including the Naismith Memorial Basketball Hall of Fame where Bernstein is among only four photographers whose work was selected for permanent exhibition. A retrospective of Bernstein's NBA All-Star photography was held at the 2004 and 2011 NBA All-Star Weekends. A retrospective of his NBA Finals photography was displayed in a solo show during the 2009 NBA Finals. He was commissioned to create a permanent installation of original hockey photography at the Prudential Center in Newark, NJ. His company's sports and entertainment photography is widely displayed throughout the STAPLES Center and Microsoft Theater, as well as throughout the Lakers', Clippers' and Kings' offices and training facilities. An exhibition of Bernstein and his company's photographs of the 2012 Kings Stanley Cup championship season was prominently displayed in a gallery inside the STAPLES Center throughout the 2013 season.
His work was represented in the international exhibition "Who Shot Sports?," which debuted at the Brooklyn Museum in July 2016. It was curated by the renowned Gail Buckland. Bernstein and Buckland also collaborated on a history of NBA All-Star Photography exhibition at the 2016 NBA All-Star Weekend in Toronto. Bernstein has been the team photographer for ten professional home teams which one championships in basketball (Lakers in 1985, 1987, 1988, 2000, 2001, 2002, 2009, 2010), baseball (Dodgers in 1988) and hockey (Kings in 2012 and 2014). He has covered 38 NBA Finals and All-Star Games as the senior NBA photographer.
Bernstein's work is also showcased in the Chase Center Art Collection, in the new home of the Golden State Warriors in San Francisco.
Bernstein was inducted into the National Jewish Sports Hall of Fame in 2013 and the Southern California Jewish Sports Hall of Fame in 2001.
Bernstein is a mentor and board member at Heart of Los Angeles (HOLA), a youth center benefiting inner city children and teens. He was instrumental in creating their after-school photography program. In December 2005, HOLA honored Andrew with their "Hero of the Heart Award" recognizing him as their volunteer of the year. In addition to many HOLA events, Bernstein and Associates is an active pro bono photography contributor to Autism Speaks, Make-A-Wish, Wish Upon A Teen, Danny's Farm, Friends of Expo and the Hydrocephalus Association. Bernstein is also a board member at the South Pasadena Arts Council (SPARC).